Testimonials
Woodland Garden Two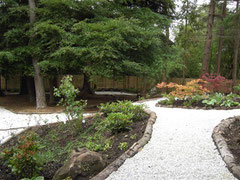 'I think the design of the garden - especially such a difficult site to work on -was excellent and having had one summer of working down there I can say that all your plans came to fruition in a wonderful way which has given me hours of pleasant gardening all summer, and what a transformation looking down on it compared to what was there in the past.'
Mrs B McGillivray, Milngavie, Glasgow
Milngavie Garden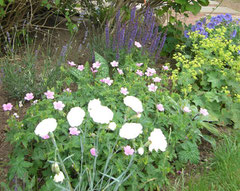 'Engaging the services of Mhairi Auld has been  absolutely invaluable in transforming our garden from neglected plot to a garden we can be proud of. She provided the inspiration and motivation to get on with our garden project at a time when we did not know where to start and were feeling very stuck for ideas. She listened carefully to what we wanted and combined this with her own design expertise and creative flair to produce solutions we would never have thought of by ourselves.

What made working with Mhairi really enjoyable was her perfectly balanced approach of professionalism on the one hand with a warm and friendly manner on the other. Her passion and enthusiasm for garden design and plants shines through at every turn of the process so much so it is contagious! I've been well and truly bitten by the gardening bug because of her.'
Ms L Armstrong, Milngavie, Glasgow 
Pollokshields Garden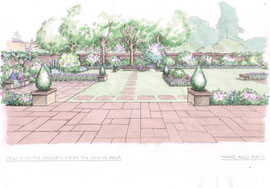 'We were really impressed with your design and look forward to working with you in the future.'
Mrs L Nathan, Pollokshields, Glasgow
Lochside Garden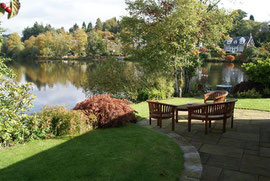 'Mhairi's local knowledge was invaluable when she designed our beautiful lochside garden. Working with her creative contractor Sandy she produced a low maintenance plan which has enhanced the property and increased the enjoyment of our home.
 
Little things - like using pine needles as the 'carpet' for our woodland path - showed her sure and sensitive touch.
 
She did it all within budget too so we had no unpleasant shocks and all the surprises were good. We continue to discover the benefits of Mhairi's sound advice bearing fruit every year.'
Milngavie Garden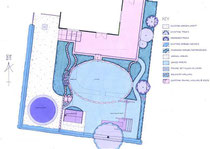 'We engaged Mhairi to bring us much needed inspiration to recreate our garden following completion of building works.  Mhairi spent time with us, listening to the varying needs of our family for the garden space, our preferences in terms of overall theme and colour and our desire to do the majority of the work ourselves.   She more than rose to the challenge of the brief, producing an incredible design and planting plan.  It has been a joy to develop the garden over the past two years and see her vision become a reality.  It was a real pleasure to work with Mhairi who brings both a huge amount of experience and flair for landscape design and a warm, approachable personality.  I would have no hesitation in recommending Mhairi's services.'
Mr and Mrs McDaid, Milngavie
Whitecraigs Garden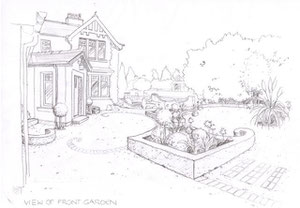 'It has been a complete pleasure to work with Mhairi from start to finish  - from the moment she presented her first outline of the design for our garden, we knew we had made the right choice of Landscape Architect. Mhairi is totally professional at all times and her high standards of design and construction have shone through, now the garden is completed.
Everyone keeps telling us how lovely our re-designed garden looks - we wouldn't hesitate to recommend Mhairi to anyone!'
Whitecraigs client - 2011
Bearsden Garden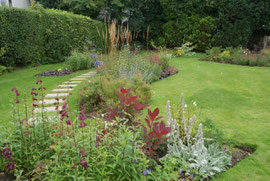 'It has been a pleasure working on my garden with Mhairi.  While taking into account my requirements, she has added knowledge and imagination to create a lovely space that complements the existing design. 
She has used her horticultural knowledge to introduce an interesting variety of plants that I would not have thought of and was unfailingly pleasant and patient.  I am happy to recommend her as a garden designer.'

Bearsden Client - 2014
Killermont Garden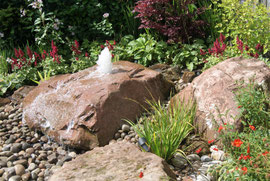 'Recently I moved into a lovely new house with large windows at the back but the garden was just laid to grass.  I didn't have the time or expertise to develop the garden myself but had ideas on what I would like.  Mhairi gave me the friendly personal service I was looking for and delivered a garden which was better than I had dreamed. 
The whole process was enjoyable and professional.  Her clever design has meant that there are different plants flowering throughout the season so each day there is something new to enjoy.
Mhairi is an expert who is passionate about gardening and I could not recommend her more highly.'
M Grant - 2016
Milngavie Garden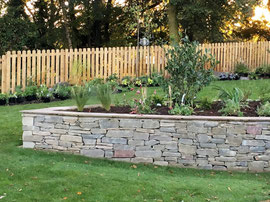 'We have really enjoyed working with you and are delighted with the garden. You really listened to our thoughts and hopes for the garden space and have delivered a design we would never have managed to create ourselves.  It will be fascinating to watch plants develop and colours change with the seasons next year.  It has been a big investment but one we are sure we will enjoy for many years.
We do hope you will have time to pop in next year for a coffee and to see the garden.'
Mr and Mrs Menzies -2016
Bishopbriggs Garden
I was very impressed with Mhairi's ideas and her enthusiasm has encouraged me to take an interest in gardening.  Her design has turned a plan garden into something to be proud of'
Bishopbriggs Client - 2014
Contemporary Bearsden Garden
'Whether or not you think you know what you want done with your garden we would thoroughly recommend using this lovely lady to bring her professionalism and imagination to the project. 
We had an outline idea of what we were looking for and Mhairi brought it to life with a careful understanding of what we had hoped for allied to her creative vision.  With large areas to be planted after the initial landscaping work we also relied on Mhairi's considerable horticultural knowledge and enthusiasm to draw up and ultimately supervise a planting schedule. 
We are delighted with our new garden! And we are delighted that we had Mhairi on board with us from start to finish on the project.
Bearsden Clients 2019